Denver Document Scanning Services
Documents Scanning in Denver
In a digital age where effective information management is crucial, our proficiency lies in providing comprehensive document scanning solutions in Denver, Colorado. Housed in a state-of-the-art facility and driven by an unwavering commitment to security, we specialize in the seamless conversion of your paper documents, microfilm, microfiche, and large-format records into digital formats. Serving as your portal to a paperless and well-organized future, our services prioritize both security and efficiency, resulting in time, space, and resource savings. Discover the transformative potential of our cutting-edge document scanning solutions for your business in Denver.
Documents Ideal for Scanning
Accounts payable documents
Architectural and engineering drawings
Artwork such as photos, slides, film, and negatives
Blueprints
Business records
Credit card receipts
Government records and ledgers
HR documentation including employee records
Large-format document scanning
Legal documents such as bills of lading
Maps
Medical documents and patient information
Microfilm
Mylars
X-rays
Document Scanning Service Options
Traditional Paper Scanning
At Denver Scanning and Imaging, we excel in scanning a diverse range of paper documents, from credit card receipts to full-size architectural drawings. Our expertise covers various paper types, including tissue paper, color copies, and double-sided documents. Offering end-to-end scanning solutions, we ensure seamless processes from initial scanning to file indexing and storage in an Electronic Document Management System (EDMS).
Micrographics Migration to Digital Formats
For meticulous microfilm-to-digital conversion, trust our experienced staff at Denver Scanning and Imaging. Handling hundreds of millions of microfilm images, we address flaws through careful evaluation and recommend enhancements before the scanning process.
Microfilm Scanning
Utilizing high-speed film scanning equipment for both 16mm and 35mm film, we accommodate a broad spectrum of film reduction ratios. Equipped with advanced image enhancement software, our local scanners deliver the highest quality electronic images.
Microfiche Scanning
Streamlining the process, we use pre-scanned images to assess precise image locations before microfiche scanning. This concurrent scanning approach reduces turnaround time for our clients, ensuring swift document return.
Scanning Services for Engineering Drawings
Our scanning and conversion services cover blueprints, mylars, and drawings ranging from "A" to "J" sizes. While TIFF, JPG, and Adobe PDF are popular output formats, we offer flexibility with file output types, including DWG, CALS, and JEDMICS.
Other Document Scanning Services in Denver
Explore our additional services, including optical character recognition (OCR) scanning and indexing for various volumes and document sizes. Denver Scanning and Imaging assists in finding the right Document Management System (DMS) for your business model, managing file indexing and uploading.
For organizations seeking a day-forward scanning process, our experts at Denver Scanning and Imaging can help establish electronic filing systems or seamlessly integrate newly scanned documents into your existing filing system.
Why Should You Digitize Your Business's Documents?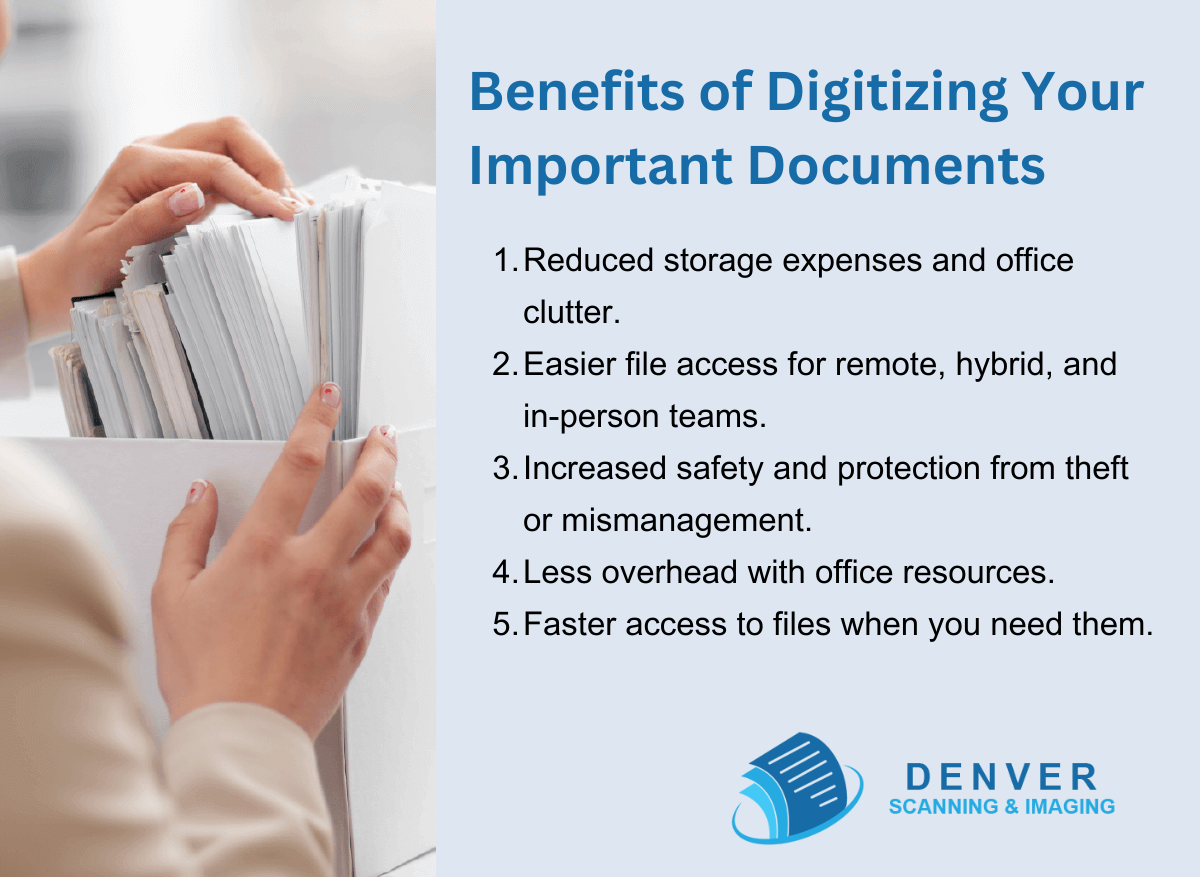 Reduced storage expenses and office clutter. For many individuals, households, businesses and organizations, paperwork builds up fast. Getting your important documents scanned is a great way to reduce clutter in an office and save on costly expenses like storage facilities or additional space.
Easier file access for remote, hybrid and in-person teams. Our professional scanning services will help ensure that everyone on your team has quick and secure access to the documents they need, regardless of whether they're working in-person or remotely.
Increased safety and protection from theft or mismanagement. All businesses have important documents that need to be kept secure. With our document digitizing services, you can increase safety in your business and reduce the risk of critical information being misplaced or stolen.
Less overhead with office resources. Working with a document scanning company like Denver Scanning and Imaging will help you conserve money in your business by reducing the amount you spend on paper, ink, and other office resources.
Faster access to files when you need them. You don't want to waste time digging through paper documents, especially when something urgent comes up and you need a file or record quickly. Our digital scanning services will provide you with fast and reliable access to all of your important documents.
Get Free Quotes on Document Scanning Services In Denver Today!
Denver Scanning & Imaging is ready to handle your records to ensure your documents are protected from conversion to storage and/or disposal. Give us a call at (303) 962-5582 or request a free quote today.
Frequently Asked Questions
How much do document scanning services cost?
Professional document scanning services cost an average of 7–12 cents per page scanned. The total amount you spend on your document digitization project will vary based on several factors, such as the number of documents you need scanned, the amount of prep work involved, and the location in which the service is performed.
What is the typical timeframe to digitize and receive access to my documents?
The amount of time it takes to complete your document scanning project and receive access to your digital files depends on the type of documents you have, the volume of your order, and the specific scanning services you've requested. At Denver Scanning and Imaging, we work hard to ensure all of your important documents are scanned correctly and delivered to you on time.
What industries should consider document scanning services?
Industries that benefit from and frequently require records management, business solutions for storage, and document scanning services often include:
Healthcare, medical offices, and allied fields
Banking, and financial services
Architecture and engineering firms
Creative industries–film, photography, publishing, etc.
Professional services like legal, marketing, and accounting
Social services
Insurance companies
Manufacturing
Transportation and logistics
Education
Retail
Automotive
Federal, state, and local governments
and more